High temperature hand protection for industrial applications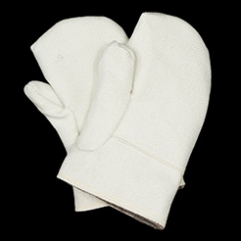 Made from Zetex fabric for protection to 1000°F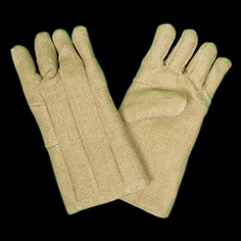 Made from ZetexPlus fabric for extreme heat protection to 2000°F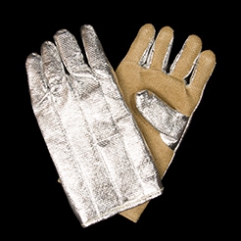 Z-Flex Multi-Layer Aluminization (MLA) fabrics provide superior radiant heat and molten metal splash protection
Made from a Core Spun (CS) Aramid fabric for abrasion and cut resistant protection to 750°F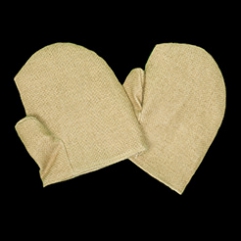 Zetex and ZetexPlus Overmitts and Finger Cots
---
High Temperature Gloves & Mitts
Newtex high temperature, heat, and fire resistant gloves and mitts are made from Zetex®, ZetexPlus®, Z-Flex®, and Aramid fabrics to resist temperatures of 600°F (315°C) to 3000°F (1650°C) while providing outstanding comfort, insulation, wear resistance, and protection from sparks and molten metal splash.
Features:
All gloves & mitts are double stitched and reinforced
All gloves & mitts feature a premium wool liner
All gloves & mitts are constructed from inorganic fibers, so they will not produce hazardous outgassing
All gloves & mitts are manufactured at the Newtex headquarters in Victor, New York, USA
Gloves vs. Mitts
Most styles are available as either gloves or mitts. We recommend gloves for applications that require dexterity, and we recommend mitts for applications in which additional heat protection, added comfort, and longer wear are important. Mitts are reversible, as either mitt can be worn on the left or right hand. If the palm of a mitt gets damaged, the wearer can flip the mitt and wear it on the opposite hand to extend the life of the product.
Size & Length
Most gloves and mitts are available in 11", 14", or 23" lengths. The 14" length provides coverage past the wrist, while the 23" length protects to the elbow. All hand protection is one size fits all. It is designed to fit loosely so that the user can remove it quickly and easily. Custom lengths and constructions are available upon request with minimum order quantity requirements. Please contact us with questions.
Minimum Order Requirements
Our gloves and mitts are sold in case pack quantities of 8, 12, 24, or 48 pairs, depending on the style of the glove. If you require fewer than 8-12 pairs, please visit GladiatorGlove.com or Amazon.com.